BIO | EVENTS / CONTACT | COMING SOON | HOME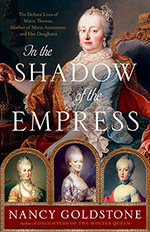 In the Shadow of the Empress: The Defiant Lives of Maria Theresa, Mother of Marie Antoinette, and Her Daughters
Read more about In the Shadow of the Empress
Out of the thrilling and tempestuous eighteenth century comes the sweeping family saga of beautiful Maria Theresa, a sovereign of extraordinary strength and vision, the only woman ever to inherit and rule the vast Habsburg empire in her own name, and three of her remarkable daughters: lovely, talented Maria Christina, governor-general of the Austrian Netherlands; spirited Maria Carolina, the resolute queen of Naples; and the youngest, Marie Antoinette, the glamorous, tragic queen of France, perhaps the most famous princess in history.
Unfolding against an irresistible backdrop of brilliant courts from Vienna to Versailles, embracing the exotic lure of Naples and Sicily, this epic history of Maria Theresa and her daughters is a tour de force of desire, adventure, ambition, treachery, sorrow, and glory.
Pre-order the book: Amazon.com | Barnes & Noble | Books-A-Million | Apple Books | IndieBound | Amazon.co.uk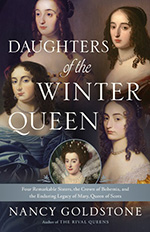 Daughters of the Winter Queen: Four Remarkable Sisters, the Crown of Bohemia, and the Enduring Legacy of Mary, Queen of Scots
Read more about Daughters of the Winter Queen
From the great courts, glittering palaces, and war-ravaged battlefields of seventeenth-century Europe comes the riveting story of four unforgettable sisters and their glamorous mother, Elizabeth Stuart, granddaughter of the martyred Mary, queen of Scots. Assailed by danger, scandal, and intrigue, pursued by powerful enemies, this pivotal family of spirited, passionate women, by steadfastly refusing to surrender to adversity, survived to change the course of history.
Buy from Amazon.com | Barnes & Noble | Books-A-Million | iBooks | Indiebound.org
This title is also available in the U.K.: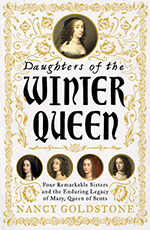 Buy from Amazon.co.uk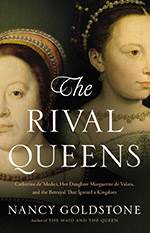 The Rival Queens: Catherine de' Medici, Her Daughter Marguerite de Valois, and the Betrayal That Ignited a Kingdom
Read more about The Rival Queens
"Nancy Goldstone leads her reader with a very sure hand through the most dramatic events of Renaissance France. Her narrative is so gripping that The Rival Queens unfolds like a thriller."
—Anka Muhlstein, author of Monsieur Proust's Library and Balzac's Omelette
"The Rival Queens is a gripping tale of royal feuds and divided kingdoms."
—Dr. Amanda Foreman, author of A World on Fire and Georgiana
Buy from Amazon.com | Barnes & Noble | Indiebound.org
This title is also available in the U.K.: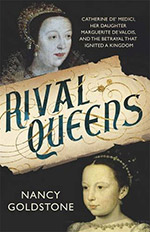 Buy from Amazon.co.uk | TheBookPeople.co.uk
The Maid and the Queen: The Secret History of Joan of Arc
Read more about The Maid and the Queen
"The mysterious and secret bond between the worldly and powerful Yolande of Aragon, queen of Sicily, and the transcendent Joan of Arc comes into glorious view in this meticulous, colorful study of their lives. A fascinating historical excursion, bursting with medieval flavor."
—Margaret George, author of Elizabeth I
"A wonderful medieval tapestry of a book that tells the still-amazing story of Joan of Arc, a peasant girl-turned-warrior who saves her king and France, and the pivotal role played by yet another extraordinary woman, Yolande of Aragon, queen of Sicily, when—in this time of tumult and treachery—Joan rose to such unexpected power."
—Jill Jonnes, author of Eiffel's Tower
Buy from Amazon.com | Barnes & Noble | Indiebound.org
The U.K. edition of the book is called The Maid and the Queen: The Secret History of Joan of Arc and Yolande of Aragon.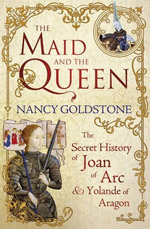 Buy from Amazon.co.uk | Waterstones.com | whsmith.co.uk | TheBookPeople.co.uk
The Lady Queen: The Notorious Reign of Joanna I, Queen of Naples, Jerusalem, and Sicily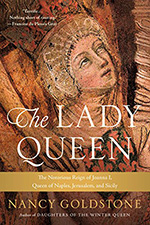 Out of the romance and passion of the fourteenth century comes the riveting story of Joanna I, the only female monarch of her day to rule in her own name, and one of the most remarkable and accomplished women in history. Married at the age of seven to her six-year-old Hungarian cousin, Prince Andrew, Joanna's brilliant, cultivated world was shattered twelve years later by the brutal assassination of her husband by unknown assailants. At the instigation of her powerful Hungarian in-laws, who used Andrew's death as a pretext to invade her kingdom, Joanna was accused of his murder and forced to stand trial for her life before the papal court at Avignon. This compelling account of how, despite her youth and sex, Joanna triumphed over her enemies, raised an army, and took back her kingdom, makes for one of the most thrilling sagas of any age.
Buy from Amazon.com | Barnes & Noble | Indiebound.org
The U.K. edition of this book is called Joanna: The Notorious Queen of Naples, Jerusalem and Sicily.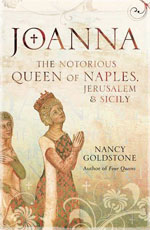 Buy from Amazon.co.uk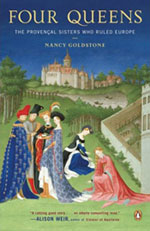 Four Queens: The Provençal Sisters Who Ruled Europe
Set against the backdrop of the thirteenth century, a time of chivalry and crusades, poetry, knights and monarchs, comes the story of four provocative sisters who rose from near obscurity to become the most coveted and powerful women in Europe. The brilliant marriages of Marguerite, Eleanor, Sanchia and Beatrice, the beautiful daughters of the count of Provence, made them the queens of France, England, Germany and Sicily. Plunged into the dangerous whirlwind of European politics, they survived war, treachery, and rebellion, often through sheer strength of character and by relying upon one another. Theirs is a compelling family drama of courage, sagacity, and ambition that still resounds today. A compulsively readable narrative, Four Queens offers a fascinating portrait of a remarkable medieval family and shatters the myth that women were helpless pawns in a society that celebrated physical prowess and masculine intellect.
Buy from Amazon.com | Barnes & Noble | Indiebound.org
This title is also available in the U.K.: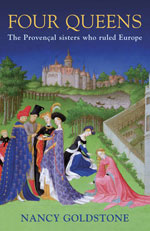 Buy from Amazon.co.uk
I have also written a number of books with my husband (before we decided to save what was left of the dishes).
Books by Lawrence and Nancy Goldstone: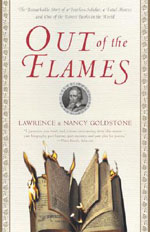 Out of the Flames: The Remarkable Story of a Fearless Scholar, A Fatal Heresy and One of the Rarest Books in the World
The fascinating tale of the sixteenth century genius, Michael Servetus, spiritual founder of Unitarianism, who was burned at the stake by John Calvin with what was assumed to be the last copy of his heretical work, Christianismi Restitutio, chained to his leg. Except three copies of the book, which also contained a great medical discovery for which Servetus was never given credit, escaped the flames.
"I guarantee you won't read a more entertaining story this season—part biography, part history, part mystery and part plea for justice."—Salon.com
Buy from Amazon.com | Barnes & Noble | Indiebound.org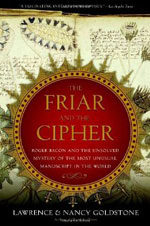 The Friar and the Cipher: Roger Bacon and the Unsolved Mystery of the Most Unusual Manuscript in the World
The most tantalizing work in the rare book library at Yale University is the Voynich Manuscript, an illustrated medieval treatise written entirely in a mysterious cipher. For centuries, code specialists have tried and failed to break the cipher. Not even today's supercomputers have been able to crack it, except for the last line, which says "To me, Roger Bacon," a reference to a thirteenth century Oxford friar who is known today as the father of experimental science. Was Roger Bacon, who was famous for the use of codes to disguise his findings for fear of prosecution by the Church, the author of this perplexing document? If so, what secrets does it hide?
"A fascinating intellectual odyssey."—The Los Angeles Times Book Review
Buy from Amazon.com | Barnes & Noble (Nook) | Indiebound.org (eBook)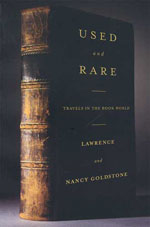 Used and Rare: Travels in the Book World
This was the first book Larry and I wrote together. It details our introduction into the world of used and antiquarian books—the odd bookstores we visited, the delightful booksellers we met, the out-or-print treasures we discovered. When we started, we were young and knew nothing. I'm not sure how far we've come since we wrote this but the journey has never been anything but wonderful.
"Most books about books are as stuffy and musty as a 400-year-old binding, but the Goldstones' prose is as sprightly and readable as the 'modern firsts' they began to add to their collections. I read it in one sitting."—Rocky Mountain News
"The authors' descriptions are evocative, their storytelling compassionate—and frequently hilarious. A sort of Year in Provence for book lovers."—Kirkus Reviews
Buy from Amazon.com | Barnes & Noble | Indiebound.org
And lastly, for those of you who are parents of young children, there's: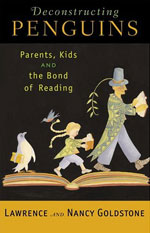 Deconstructing Penguins: Parents, Kids, and the Bond of Reading
For years, in an effort to instill a love of literature in our daughter and her friends, Larry and I volunteered our time to run parent-child book groups for elementary school children at our local library. It was hands-down the most rewarding experience of our life together. In Deconstructing Penguins (the title refers to our very first group, an in-depth analysis of Mr. Popper's Penguins) we chronicled what we learned from these sessions. The book recommends children's titles that we found to be indispensable and also offers detailed discussion plans including the real-life (and frequently hilarious) responses of both the kids and their parents.
"Not just the single best book on leading a book discussion group, Deconstructing Penguins is also about how to dig a tunnel into the heart of a book. In my ideal world, every reading teacher would trash that boring classroom text and adopt this book as a curriculum bible."—Jim Trelease, author of The Read-Aloud Handbook
Buy from Amazon.com | Barnes & Noble | Indiebound.org
© Nancy Goldstone.