"This mesmerizing history isn't to be missed."
—Publishers Weekly (starred review)
Available Now! The vibrant, sprawling saga of Empress Maria Theresa—one of the most renowned women rulers in history—and three of her extraordinary daughters, including Marie Antoinette, the doomed queen of France.
Out of the thrilling and tempestuous eighteenth century comes the sweeping family saga of beautiful Maria Theresa, a sovereign of uncommon strength and vision, the only woman ever to inherit and rule the vast Habsburg Empire in her own name, and three of her remarkable daughters: lovely, talented Maria Christina, governor-general of the Austrian Netherlands; spirited Maria Carolina, the resolute queen of Naples; and the youngest, Marie Antoinette, the glamorous, tragic queen of France, and perhaps the most famous princess in history.
"In the Shadow of the Empress is a virtuoso performance, Goldstone at the peak of her creative abilities."
—Gerard DeGroot, The Times (UK) Book of the Week
"Elegantly written… The author deftly interweaves the ups and downs of Maria Theresa's running contest with Frederick the Great with the vicissitudes of her life as Europe's most prolific procreator."
—A. Wess Mitchell, The Wall Street Journal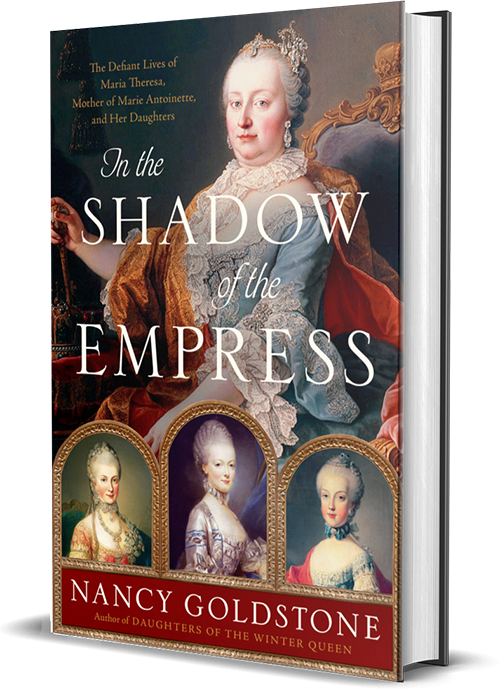 Listen to Nancy discuss In the Shadow of the Empress on the BBC History Extra podcast
Praise for Nancy Goldstone: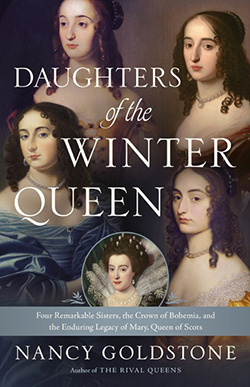 "Goldstone's forthright and often witty asides keep this complicated story bowling along at a terrific pace… Lively and well-researched, Daughters of the Winter Queen offers a timely introduction to a turbulent period in Britain's past relations with Europe."
—Miranda Seymour, The New York Times Book Review
"Goldstone is a master juggler. She tells a good story, always with a delightfully light touch. In the process, extraordinary women are given the attention they deserve."
—The Times of London
"The political intrigues of 17th century Europe are brought vividly to life in this biography of Elizabeth of Bohemia and her daughters… this is an enjoyable book… the kind of history that people read for pleasure."
—Alan Massie, The Scotsman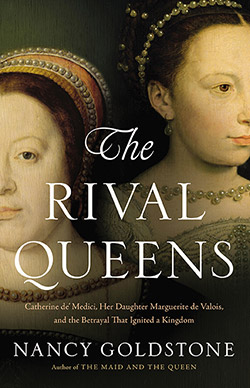 "What makes this account so convincing is not the evidence mustered, but the intuition applied… Margot, Catherine, Henry and various villains jump from the page in living, breathing, fornicating reality… an intriguing story, handsomely told."
—The Times of London
"One of the challenges facing any historian of this period is the sheer profusion of themes that need to be handled… What makes Goldstone's biography so enjoyable is that she manages, thanks to the clarity of her presentation, to lead readers through this labyrinth with a sure and steady hand… She is a popular historian whose writing is based on very serious research, with a gift for telling the most complicated tale in vivid, accessible prose."
—The New York Review of Books
"Goldstone wears her scholarship with flair; perhaps the most extraordinary feature of the story, which moves with the sharp characterization of a novel, is that it it entirely true."
—BBC History Magazine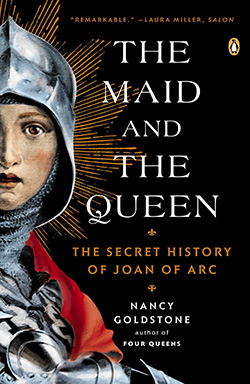 "Attention, 'Game of Thrones' fans: The most enjoyably sensational aspects of medieval politics—double-crosses, ambushes, bizarre personal obsessions, lunacy and naked self-interest—are in abundant evidence in Nancy Goldstone's The Maid and the Queen… Because so much of this material is familiar, delivery becomes a crucial factor in any popular history of these events. Goldstone's is vigorous, witty and no-nonsense in the tradition of the late, great popular historian Barbara Tuchman."
—Laura Miller, Salon.com
"Goldstone presents this dual biography of two fascinating medieval women with the descriptive energy of a novel."
—USA Today
"Highly recommended for all readers who enjoy medieval history."
—Historical Novels Society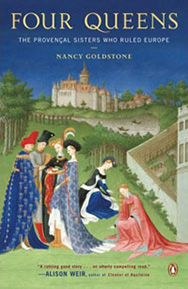 "Nancy Goldstone has written a wonderful book [Four Queens] about four remarkable women. Her passion for history and her gift for telling a rattling good story make this an utterly compelling read. She is clearly a major new talent in the field of historical writing, and I eagerly await her next book. I am proud to be associated with such a fine work."
—Alison Weir
"The sisters' lives are fascinating: they wielded influence, pursued power, dealt with difficult husbands. The book's charm comes from author Nancy Goldstone's witty tone and details about how these women lived. Imagine history with a nice dollop of chick-lit charm."
—USA Today
"To get an idea of Nancy Goldstone's book, think of chess, multidimensional chess… Ms. Goldstone is always good on the theatricality of the age… She is alert to the calculation in a silk cloak, the spin in a street hung with tapestries and the collateral in jewels… She steers her readers deftly from court to court, nudging us, like a good hostess, with names and connections as she goes, and lightening the informational load with dry humor."
—The Economist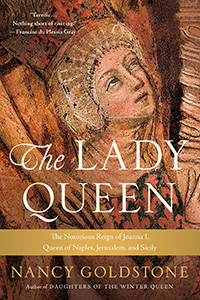 "Goldstone weaves a vivid tapestry worthy of her subjects."
—Entertainment Weekly
"Written in vivid, pellucid prose, Nancy Goldstone's terrific biography of this unique and extraordinary woman gives us a glimpse of the significant power exercised by many women in the Middle Ages, and is nothing short of riveting."
—Francine du Plessix Gray
"The Lady Queen weaves the story of one of the most extraordinary (and unjustly overlooked) rulers of the Middle Ages. The incredible episodes in Joanna's history… sometimes seem like something out of one of Boccaccio's more fantastical tales. In bringing it all together, Nancy Goldstone has produced the most compelling history of the 'calamitous fourteenth century' since A Distant Mirror."
—Ross King
"Goldstone expertly describes bloodthirsty 14th century politics and the complex family entanglements that encouraged siblings and cousins to clash over kingdoms like toddlers brawling over toys…Packed with action and effortless to read, Goldstone's account will satisfy scholars and entertain book clubs with a heroine who had persistence and unbounded dedication to her realm."
—Publishers Weekly (starred review)
"Court intrigue, the murder of a member of a royal house, and a sensational trial: many authors use these elements in combination to forge page-turning medieval mysteries. Goldstone proves…that truth is often stranger and more intriguing than fiction. Choosing as her subject Joanna, the notorious queen of Naples…she chronicles the fascinating life of one of the few women in her time who ruled in her own name…a life well worthy of historical examination."
—Booklist
"A thoroughly intriguing portrait of a neglected historical figure."
—Kirkus Reviews