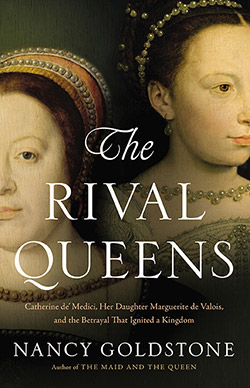 Set in Renaissance France, at the magnificent court of the Valois kings, comes the history of two remarkable women, a mother and daughter driven into opposition by a terrible betrayal that threatened to destroy the realm. Catherine de' Medici, the infamous queen mother of France, was a consummate pragmatist and powerbroker who dominated the throne for thirty years. Her youngest daughter Marguerite, the glamorous "Queen Margot," was a passionate free spirit, the only adversary whom her mother could neither intimidate nor control. When Catherine forces the Catholic Marguerite to marry her Protestant cousin Henry of Navarre against her will, and then uses her opulent Parisian wedding as a means of luring his Huguenot followers to their deaths, she creates not only savage conflict within France but also a potent rival within her own family.
Treacherous court politics, poisonings, international espionage and adultery form the background to a story whose fascinating array of characters include such celebrated figures as Elizabeth I, Mary, queen of Scots, and Nostradamus.
Beginning with Catherine's early struggles with her husband's exquisite mistress, Diane de Poitiers, and her exultant rise to power; through Marguerite's poignant sacrifice of love and happiness to save her husband's life and ultimately to the political awakening that leads to a threat to her very survival, The Rival Queens is a dangerous tale of love, betrayal, ambition, and the true nature of courage, the echoes of which still resonate.
Bookshop.org
Amazon
Apple
Audible
Barnes & Noble
Books-A-Million
Kobo
Amazon UK
Listen to an interview with Nancy Goldstone about The Rival Queens on the Leonard Lopate show:
Praise for The Rival Queens: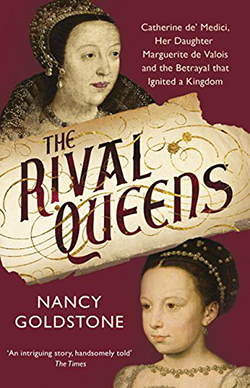 "One of the challenges facing any historian of this period is the sheer profusion of themes that need to be handled…What makes Goldstone's biography so enjoyable is that she manages, thanks to the clarity of her presentation, to lead readers through this labyrinth with a sure and steady hand… She is a popular historian whose writing is based on very serious research, with a gift for telling the most complicated tale in vivid, accessible prose."
—The New York Review of Books, August 13, 2015
"Riveting."
—Entertainment Weekly
"The 16th century, Nancy Goldstone notes in her gripping new biography, was the great age of queens… the author delves beneath the myths of the manipulative poisoner-queen and her treacherous child to tell a more human story, elaborating on the emotional impoverishments that lay beneath the gorgeous magnificence of the French court… Lovers of Renaissance history will rejoice in this book. Goldstone wears her scholarship with flair; perhaps the most extraordinary feature of the story, which moves with the sharp characterization of a novel, is that it is entirely true."
—Lisa Hilton, BBC History Magazine
"Male historians have long been suspicious of feminine perfection, often assuming it cannot coexist with wisdom. When beauty is allied to a passionate heart, scorn multiples exponentially. Stated crudely, men find it easier to respect a powerful female if she has a face like a potato and the body of a bus. This perhaps explains the ridicule heaped on Marguerite, better known as Margot (1553-1615). According to Nancy Goldstone, an American historian, she 'has come to be regarded as a sensual dilettante who put her own romantic inclinations ahead of her duty to the kingdom'… what makes this account so convincing is not the evidence mustered, but the intuition applied. Goldstone makes a great effort to understand the emotions of the dramatic personae. As a result, Margot, Catherine, Henry and various villains jump from the page in living, breathing, fornicating reality. To be supplied with characters so fully formed is apt for this age when the political was indeed personal. There was a time, long ago, when historians were supposed to be wordsmiths. It was their job to render the past as an evocative, illuminating and understandable story. Nowadays beautiful prose, like beautiful women, is often derided by 'professional' historians. Good writing is seen as the enemy of sophisticated analysis. How refreshing, then, to encounter an intriguing story, handsomely told."
—Gerard DeGroot, professor of history at the University of St Andrews, The Times of London, June 6, 2015. For full review (subscription only) please click here.
"Nancy Goldstone leads her reader with a very sure hand through the most dramatic events of Renaissance France. Her narrative is so gripping that The Rival Queens unfolds like a thriller."
—Anka Muhlstein, author of Monsieur Proust's Library and Balzac's Omelette
"The Rival Queens is a gripping tale of royal feuds and divided kingdoms."
—Dr. Amanda Foreman, author of A World on Fire and Georgiana
"A thrilling tale packed with historical details and shocking revelations. Nancy Goldstone writes with cinematic clarity and eloquently brings to life two indomitable women whose ambitions changed the course of European history."
—Ivana Lowell, author of Why Not Say What Happened?
"If the serious history readers among your library patrons believe that Tudor England is the only place
where family and religious conflict at the highest level makes riveting reading matter, those folks need to take a close look across the English Channel and see what was transpiring at the same time in the French court. The French contemporary to Elizabeth I was Queen Catherine de' Medici, widow of King Henri II and mother to three kings after him. Catherine loved power, but as we see in this highly dramatic dual biography, she hadn't the finesse of Queen Bess and made a big mistake in making her beautiful daughter, Marguerite of Valois, an enemy. This, of course, was a time in European history when Catholicism was confronted by ever-encroaching Protestantism, and this struggle came to a head in England in the messy divorce of Henry VIII from Catherine of Aragon. In France, it reached its climax in the St. Bartholomew's Day Massacre, a bloody country-wide conflagration ignited by Queen Catherine's forced marriage of her very religious and very Catholic daughter to the Protestant king of Navarre. Tudor struggles pale in comparison! Read this along with Antonia Fraser's classic Mary Queen of Scots (1969), who was briefly married to one of Catherine de' Medici's sons."
—Booklist, STARRED REVIEW, June 1, 2015
"Goldstone upends conventional thought with this well-researched and well-written book, arguing that Catherine de' Medici, the French queen mother, was less Machiavellian in nature than generally believed and that she reacted to geopolitical situations with disastrous results for both her family and France. As a Catholic 'power broker,' de' Medici manipulated friends and rivals in her meticulous plan to ensure the marriage of her reluctant daughter Marguerite marriage to a French Huguenot (Protestant) prince—then just as carefully had the new husband's wedding party slaughtered four days later. While this was clearly a ploy to combat the threat of a rising Protestantantism, it created an untenable political situation in France. For her part, Marguerite showed considerable intellect and negotiating skills as she maneuvered around religions, powerful French families, and constantly shifting political terrain while being sabotaged by her family and husband. Goldstone's witty comments make this historical family drama as easy to read as the best fiction, but it's all the more tragic for being true."
—Publishers Weekly, STARRED REVIEW, May 4, 2015
"This engrossing, action-packed narrative immerses readers in a tumultuous period of European history. Prolific biographer Goldstone turns her attention to France, focusing on the poisonous rivalry between the powerful Catherine de' Medici and her daughter Marguerite. A true disciple of Machiavelli, to whom Goldstone frequently compares her, Catherine was the mother of three kings and two queens and ruled France as regent for almost three decades. Determined to see her sons advance and dedicated above all else to her own survival, she was unscrupulous enough to manipulate, control, and exploit Marguerite to advance her political agenda. Played out against the backdrop of the French wars of religion, this is a story of espionage, assassination, intrigue, and chicanery but also one that poignantly reminds readers of the vulnerabilities faced by women of the age. Although the complexities of shifting allegiances and alliances may be difficult to follow, readers are sure to be captivated by the lush details of these women's lives: early marriages, the dynastic obsession with fertility, the dangers of childbirth, the sexual escapades of the court, the flagrant presence of mistresses, and the humiliations endured by royal wives. The atrocities fueled by Catholic-Protestant tensions form an equally gripping subtext to this story. This highly accessible account is recommended for general but serious readers interested in European history and royal biography."
—Library Journal, April 15, 2015
"Two Renaissance queens—who also happened to be mother and daughter—receive a thorough treatment. Goldstone certainly knows her queens (The Maid and the Queen: The Secret History of Joan of Arc, 2012, etc.). Through the story of this mother-daughter relationship of Catherine de' Medici (1519-1589) and her daughter, Marguerite de Valois (1553-1615), the author spins a tangled tale of rivalry, ambition, and, especially—for the rare women leaders of the time—sheer self-preservation. Catherine is the more well-documented monarch: married at age 14 to the French prince who became Henri II, she grew from a docile pawn of her wealthy family into a formidable player in the Catholic-Huguenot wars by acting as regent to one son and éminence grise to another. Indeed, Goldstone reveals her to be 'an able disciple of Machiavelli' in her eagerness to play her children off one another. Marguerite is less known, but she was an extremely important component to the religious animosities roiling Europe and Britain at the time, as she was forced to marry the leader of the Huguenot party, her cousin Henry of Navarre (future Henri IV), as a way for her mother to neutralize the pesky Protestant element threatening the stability of France. Her marriage to Henry in 1572 precipitated the horrific Saint Bartholomew's Day Massacre five days later and caused the spiritual grief of her life. Catherine and Marguerite were often at odds, but Marguerite proved no shrinking violet. While her mother manipulated the interests of her spoiled favorite son, Henri III, Marguerite managed to conduct her own love affairs and championed to her advantage the political maneuvering of her younger brother. Throughout the book, Goldstone has a remarkable handle on these often Byzantine royal machinations. History brought to vivid life in the characters of these women of purpose."
—Kirkus Reviews, March 1, 2015
A Conversation with Nancy Goldstone
What gave you the idea to write this book?
I love researching and writing about women in power and am fascinated by the Middle Ages and the Renaissance. So for the past decade I have focused on important queens and their influence (often ignored) on major historical events. I started in the thirteenth century with the four daughters of the count of Provence who became the queens of France, England, Germany and Sicily (Four Queens). After that, my curiosity led me to the next century, where I found the wonderful Joanna I, queen of Naples, Jerusalem and Sicily (The Lady Queen). Joanna, in turn, introduced me to Yolande of Aragon, fifteenth century queen of Sicily, the masterful politician responsible for bringing Joan of Arc to the attention of the dauphin and winning the Hundred Years War (The Maid and the Queen). Moving chronologically forward in this way has allowed me to build steadily on the research and was of immeasurable help in understanding and unraveling the context of each woman's story. I could look at the world the way they did because I knew what they knew—I had lived through the recent past by writing the earlier books.
After Yolande, I naturally turned to the sixteenth century. I confess I didn't expect to find a story as gripping as Joan of Arc's but I was wrong. The adventures of Marguerite de Valois are as thrilling as any I have ever encountered, and the power plays, political conspiracies, sexual intrigues, and double crosses of Renaissance France under her mother, Catherine de' Medici, are jaw-dropping. I could research a thousand royal courts and never find another as deliciously, addictively unscrupulous as Catherine's! She makes those Lannisters look like rank amateurs.
Okay, that sounds like fun. So who were Catherine de' Medici and Marguerite de Valois, and why were they special?
Catherine de' Medici was the wife of Henri II, sixteenth century king of France. She had seven surviving children—four boys and three girls—and ruled as regent for her son Charles IX after the death of her husband in 1559. Marguerite de Valois (the beautiful Queen Margot, title character of the hugely popular novel by Alexandre Dumas) was Catherine's youngest daughter. A devout Catholic, Marguerite was forced by her mother to marry her cousin Henry, king of Navarre, head of the Protestant faction, called Huguenots, in France. Five days after the ceremony took place, the unsuspecting Huguenot guests were slaughtered at Catherine's direction in an infamous episode known as the Saint Bartholomew's Day Massacre.
Now, after my other books, I had felt I was more or less inured to catastrophe. I had already covered the disastrous Egyptian crusade of Louis IX, the Black Death (bubonic plague) of the fourteenth century, and the horrific execution of Joan of Arc, among other atrocities. But a wedding that went that spectacularly bad—that was a mother-daughter relationship worth poking into, I thought.
Hasn't it been done before?
Actually, no—not like this. There are books that focus on the Saint Bartholomew's Day Massacre, of course, and biographies of Catherine de' Medici (and one forty-year-old, out-of-print biography of Marguerite de Valois written by a disapproving British male historian). But no one has yet to date examined the lives of both women and their influence on each other and European affairs, and this turned out to be significant.
Why? What did you discover that is different from the other biographies?
For centuries, the prevailing opinion among historians had been that Catherine was an astute politician who maintained control of the government by cleverly employing Machiavellian principles to keep the various religious factions off balance, and that her youngest daughter was an inconsequential presence known chiefly for voracious and indiscriminate sexual behavior. More recently, however, a theory has been floated that Catherine was not power-hungry after all, merely an able administrator and disinterested leader who did the best any one could do under trying conditions. This new and more sympathetic appraisal of Catherine's motives and abilities has not, alas, extended to reevaluating her youngest daughter's character and political role. Margot remains conveniently dismissed on the grounds of frivolous sexuality and deplorably loose morals.
And what did you find?
An in-depth examination of both women's careers yields quite different results. Catherine de' Medici was neither astute nor able—she was a train wreck. Rarely have I encountered a leader, male or female, who failed so comprehensively at the task of ruling. There is a very strong argument to be made that Catherine, first as a result of insensitivity and inexperience, and later through corruption and amorality, was primarily responsible for—indeed, kick-started—the French wars of religion, whose horrific violence devastated the kingdom for decades. (It was no accident that these wars began in the first year of Catherine's regency and did not end until a few years after her death.) She has almost single-handedly ruined poor Machiavelli's reputation through the centuries; if he were alive today he would almost certainly sue her for defamation of character!
And what about Marguerite?
Margot's political acumen and influence, on the other hand, was far more significant than she is ever given credit for. She was the driving force behind her younger brother François's career, as well as the glue between the Huguenot and Politique parties, whose policies were substantially more reasonable than either Catherine's or the Catholic League's. Without Marguerite, there would have been no viable opposition movement condemning the worst excesses of the Crown in the years immediately following the Saint Bartholomew's Day massacre.
But she was just a good time party girl, only interested in sleeping around, wasn't she?
As for the frequency of her love affairs, all I can say is that Margot's behavior pales before that of her brother Henri III (a regular and enthusiastic participant in orgies, and a man who used sex to humiliate or eliminate his political rivals), her husband, Henry of Navarre (who loathed his wife, was never without a paramour, liked his consorts very young, and once went to war over an errant mistress), and Catherine herself, whose ladies-in-waiting (slyly nicknamed her "Flying Squadron") were specifically employed to seduce and spy on members of the opposition party, the court, and even her own children. Unlike the other members of her family, Marguerite never used sex as a weapon, nor did she ever set a love trap for anyone, as was commonplace for her mother and brothers. One of the qualities I most admire about Margot is that she never apologized for her extramarital relationships. She believed she had as much right to happiness as any man, a very modern attitude that I find refreshing.
Oh well, this was all so long ago that none of it matters anyway, does it?
Of course not! Nobody fights about religion anymore…